Schiit ( named exactly what you think it is ) is a company established by Jason Stoddard. Their ideal is simple, clean, powerful, made in the USA using USA parts. I love them for the plain humor they imply on their site, and also the design of the item. Oh, not forgetting the great sound from a simple circuit board implementation.
Some do feel that simplistic means lousy, this redefines it! Here we will talk about the Magni, an "entry" level $99 amp that packs some absurd power. 1.2W RMS per channel on 32 ohm, like seriously.. and on 600 ohms, 130mw RMS. So, who says $99 amp cant get you nowhere?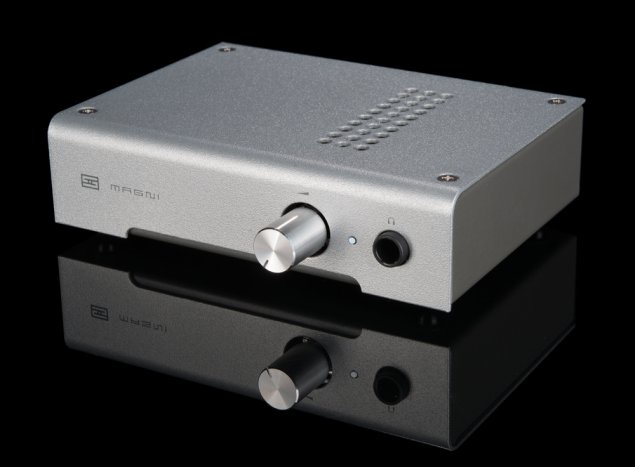 Magni
Design
I absolutely love the aluminium looks of the Magni. It looks real simplistic and is a definite space saver on a desk. The Magni is connected via RCA ONLY.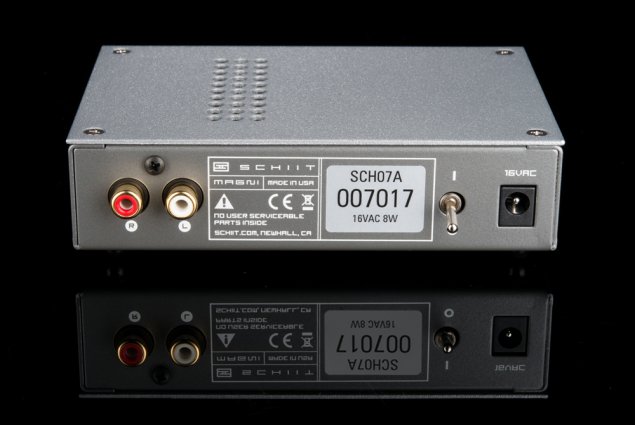 Rear
There are 2 variations for voltage and 4 types of plugs to choose from.
Sound
When I plugged in this amp, I was skeptical for a $99 amp. I wasn't expecting something extraordinary, apparently from the early part of this article you should know I had my mind turn upside down.
Treble
The treble on Magni is really really nice. From an orchestral perspective, you can hear all the minor details that are in the music clearly. The high hats are just plain crispy. All the little "ting tings" possible in a music is clear cut and apparent. No top parts of the music gets let off.


Vocal / Mids
Wow, the trumpets in this Magni is mesmerizing. Vocals mix real well with the trumpets in "Trumpets, by jason derulo" That really proves that vocal isn't always necessarily be overturning other mid range audio parts. Piano, goosebumps, period!
Female vocal is quite sweet and warm on the "Vertigo" duet between Jason Derulo and Jordin Sparks. Their mix with the piano really caught me in my emotions!


Bass
I used "Talk Dirty" by Jason Derulo to test the deep down bass of Magni, and it did not disappoint at all! Beats can go real down thumping, but very well controlled and precise. It will not give you the WAAAYYY overpowered bass that "some brands" will give, but instead quality speaks better than quantity.


Soundstage
The soundstage projected by the Magni is very wide, as explainable in "the fire rises" by Hans Zimmer. The whole scene can almost be very well positioned, with every instruments pin pointable to their exact location, near or distanced. Echos transverse wide and clear without early cut offs.
Dynamics are very well done in Magni. It feels like everything is equally appearing and mix real well together, giving you the feeling that this is at the Alo Audio level material but at a $99 price level.


Conclusion
Well, with that many praises from Head-Fi, and Jason with his humor, I can say it is undeniable that Schiit is making them a challenger to be reckoned with at this already diverse market of amp and DAC options. If you do have an interest in audio, the first step to go for will be the Magni, it's $99 pure awesomeness! I wonder what other Schiit will sound like.. Schitty perhaps? haha. For Magni, I give a 100% definite recommendations, no questions asked!